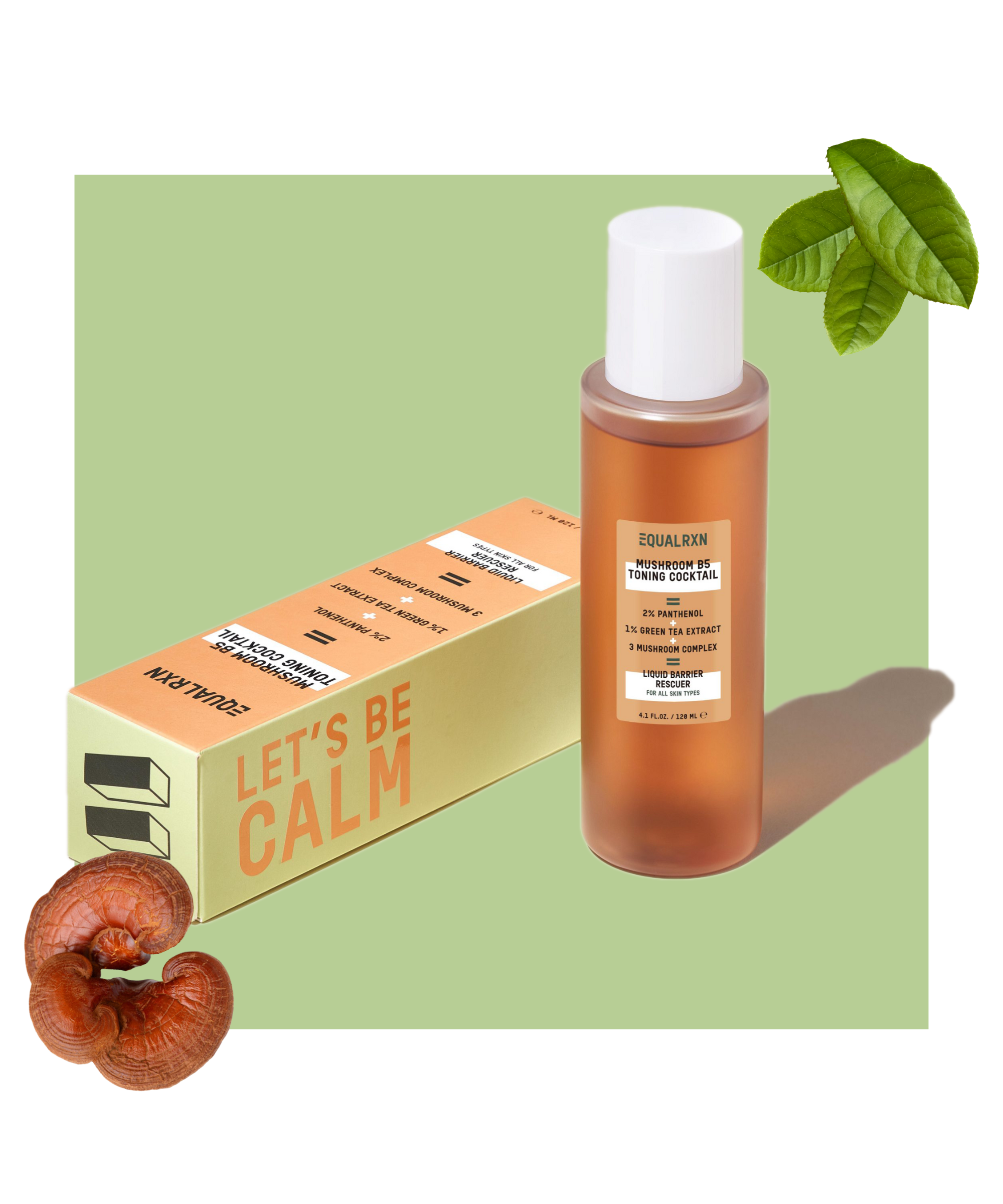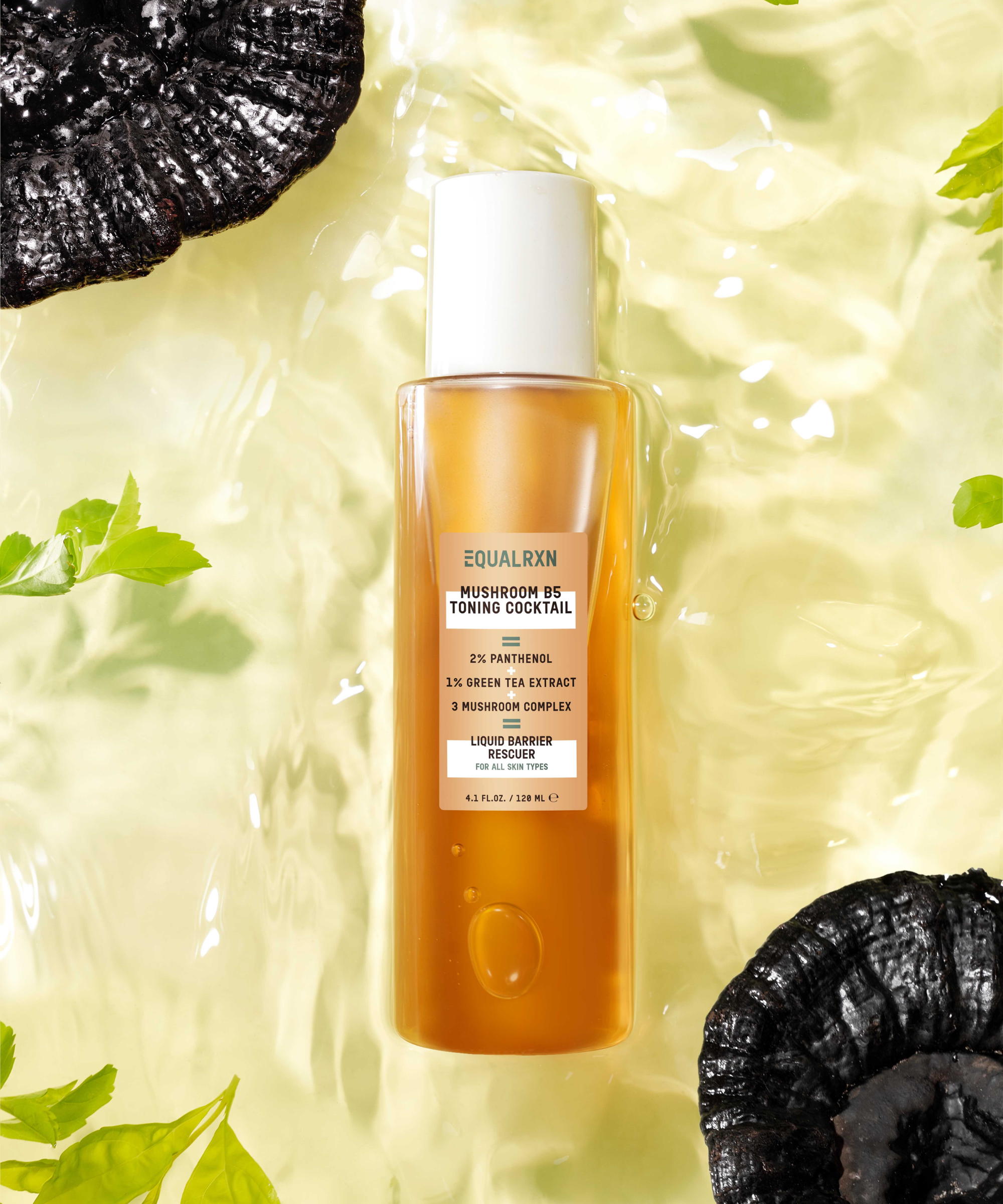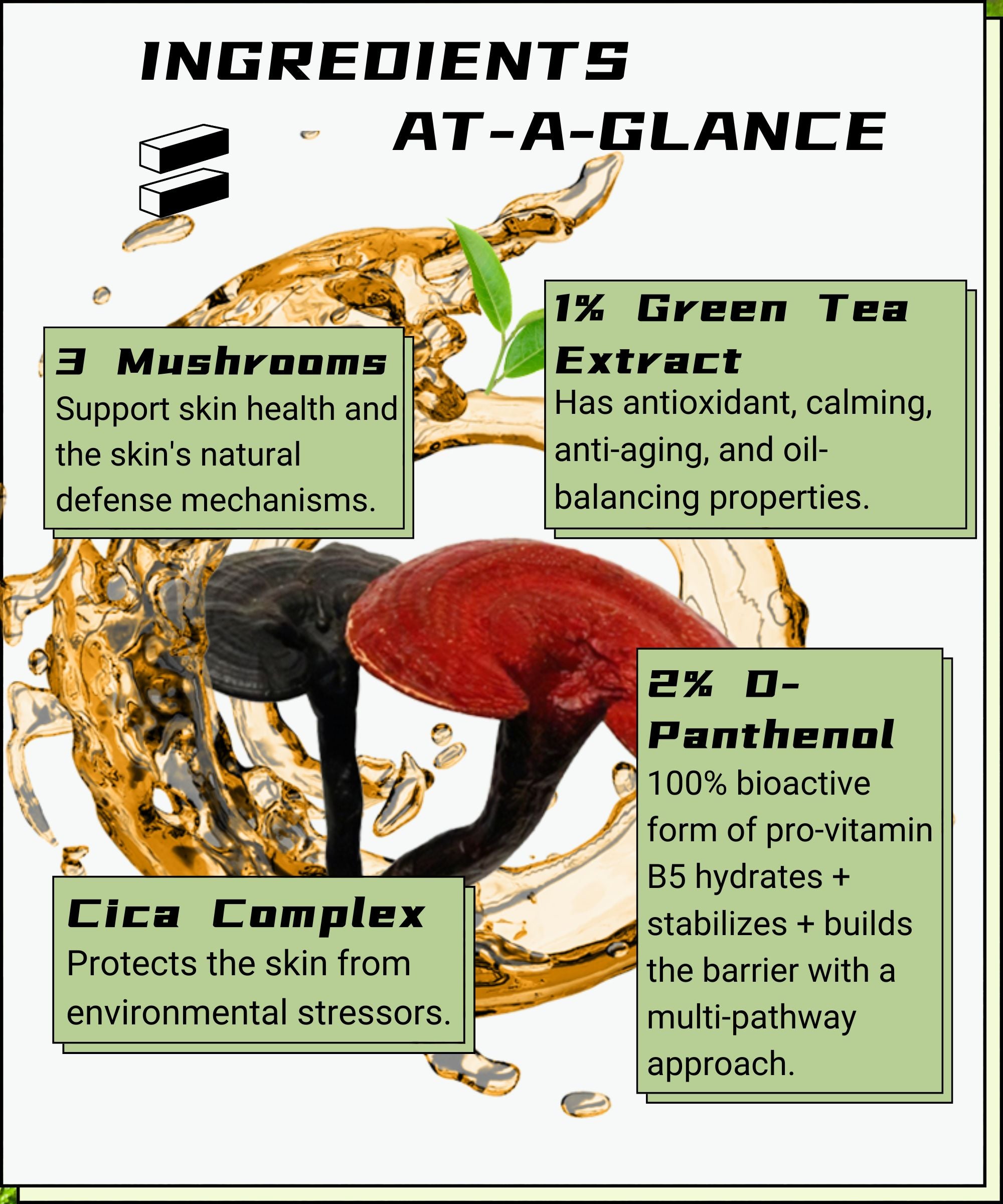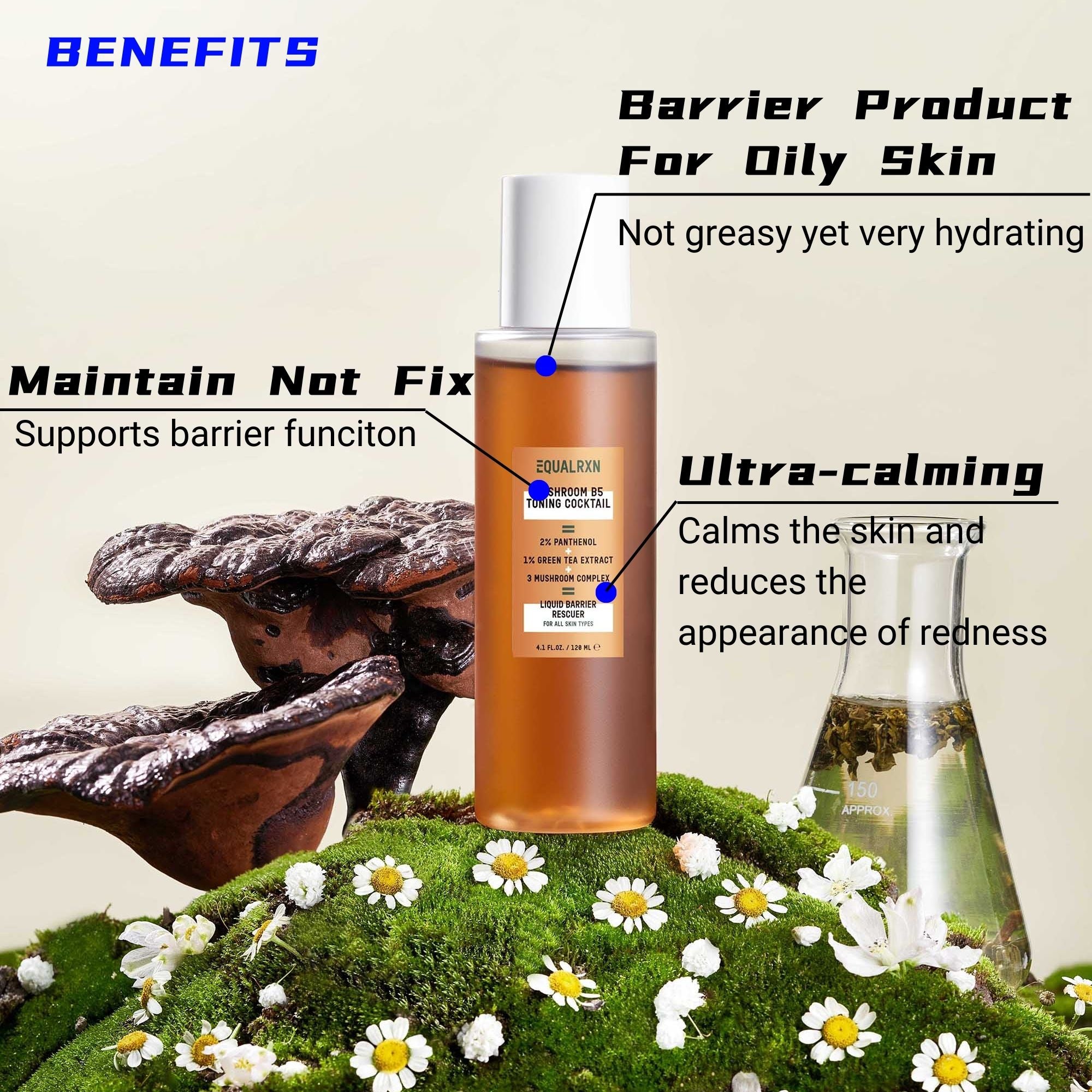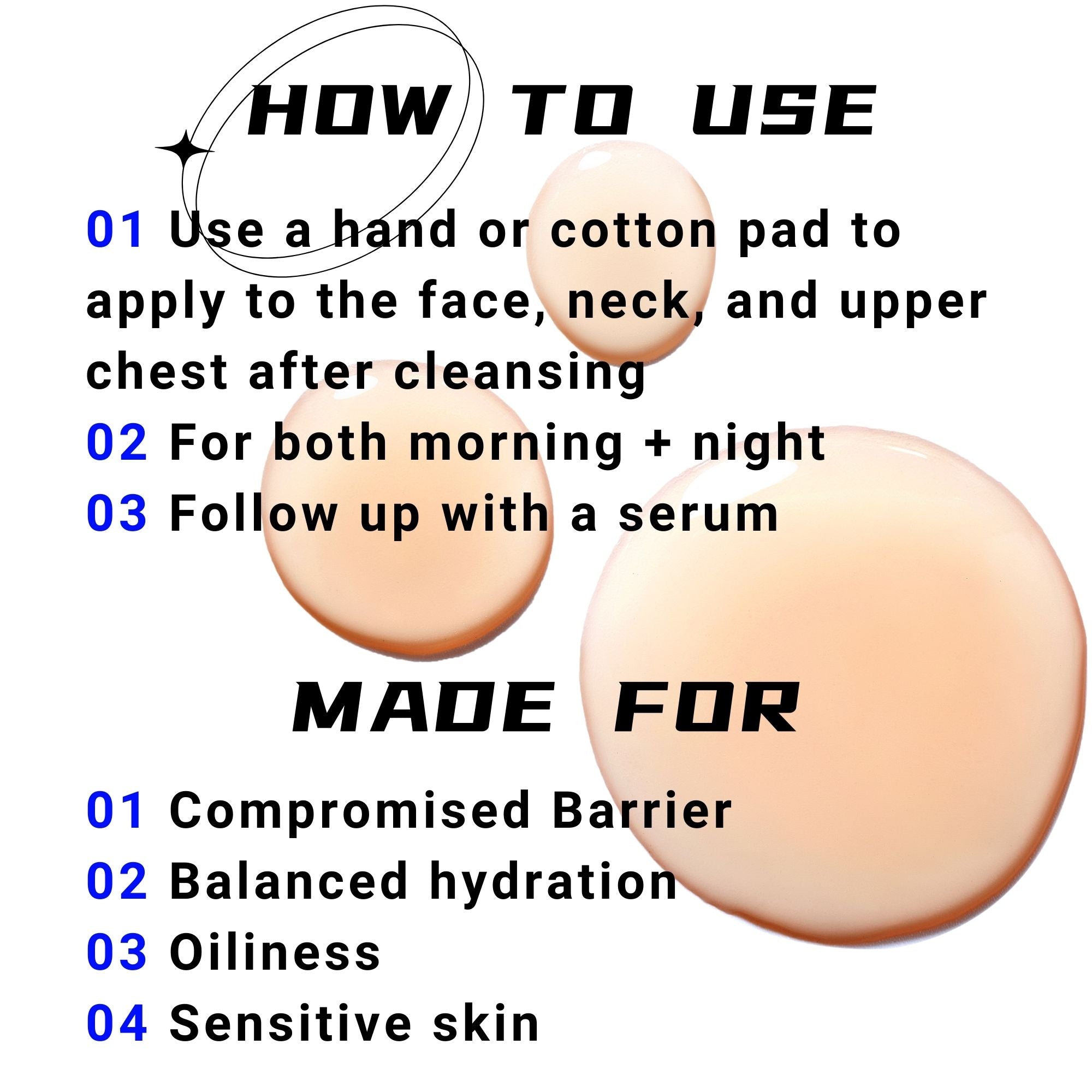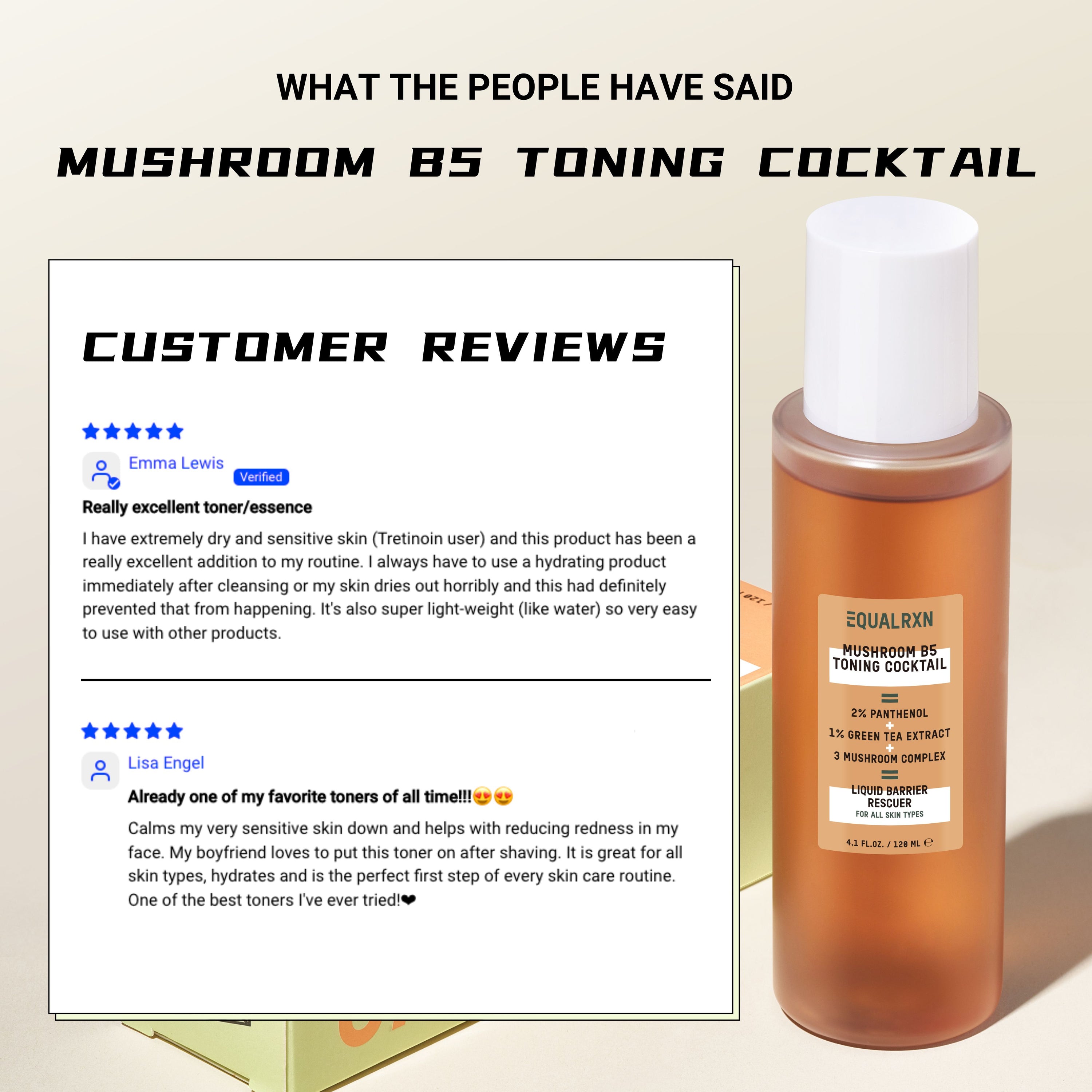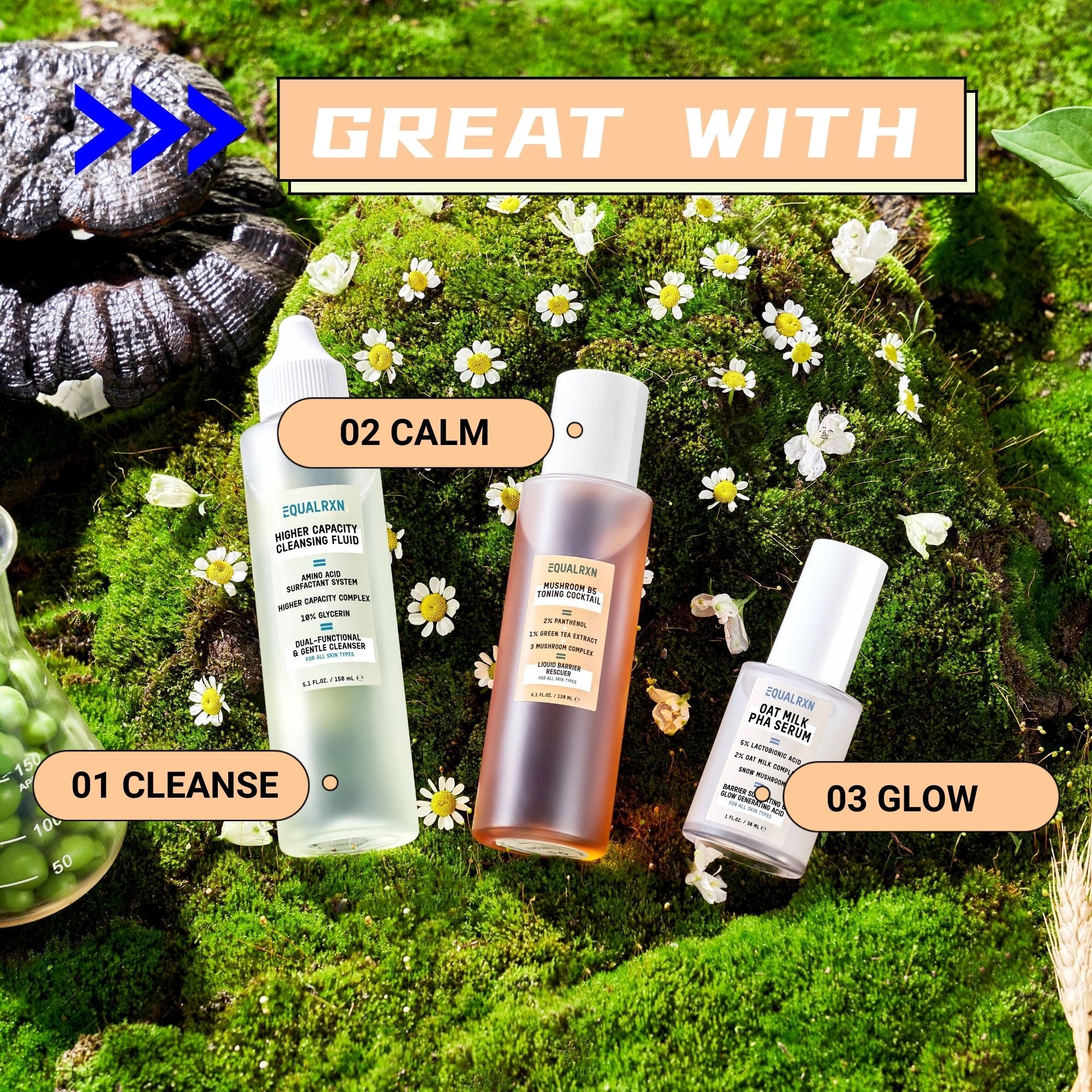 Mushroom B5 Toning Cocktail
Description
Full Ingredients
How To Use
120 mL / 4.1 oz
When it comes to achieving a healthy skin barrier, maintenance > repairing.
The skin's defense system, barrier integrity, hydration, and inflammation level are the four essential pillars of a healthy skin barrier. EqualRXN studied the mechanisms behind impaired skin barriers and created the Mushroom B5 Toning Cocktail, aka the Liquid Barrier Rescuer.
We wanted to create a barrier product that is water-light and suitable for the oiliest skins, yet also hydrates and rescues the driest and most sensitive skins. A cocktail of calming ingredients works synergistically to provide hydration, calm the skin and support the skin barrier without feeling heavy.
What we love about it
[ SUPPORTS BARRIER HEALTH ] Targeting all pathways of maintaining skin barrier health, this toner helps to keep the barrier healthy, preventing it from getting to a breaking point.
[ WATER-BASED + LIGHTWEIGHT ] Essence-like texture that contains all the nutrients in supporting the skin barrier.
[ HYDRATING TONER ] Panthenol, glycerin, and beta-glucan attract moisture and protect the skin from dryness.
[ GREAT FOR HAIR & NAILS ] The ingredients list doesn't tell the whole story. The most common form of panthenol used in skincare is D, L-panthenol, which is only 50% bioactive in strengthening the skin. We used 2% D-panthenol, a 100% bioactive panthenol. Because of panthenol, this toner is great for hair and nails too!
[ FOR ALL SKIN TYPES ] No alcohol, no fragrance, 5.5 pH, great for sensitive skin. Oily skin can benefit from the light-weight texture, dry skin can benefit from its hydrating power (layer with a serum and moisture to seal in the moisture).
Water/Aqua/Eau, Glycerin, Panthenol, 1,2-Hexanediol, Camellia Sinensis Leaf Extract, Methyl Gluceth-20, Ganoderma Lucidum (Mushroom) Stem Extract, Inonotus Obliquus (Mushroom) Extract, Phellinus Linteus Extract, Hydroxyacetophenone, Arginine, Beta-Glucan, Theobroma Cacao (Cocoa) Extract, Butylene Glycol, Centella Asiatica Extract, Asiaticoside, Madecassoside, Asiatic Acid, Madecassic Acid, Avena Sativa (Oat) Meal Extract, Carbomer, Disodium EDTA, Citric Acid, Dextrin.
- After cleansing, saturate a cotton pad and gently sweep over the face, neck, and upper chest in the morning and at night.

- The skin should feel calm and moisturized. Follow up with a serum

- Use daily. In the morning and/or at night.
Mushroom B5 Toning Cocktail
03 Treat
Improve the skin by addressing specific concerns. EqualRXN's serums are all compatible and synergistic.
Staple in my routine
I've been using this toner since April 2022 and nothing has compared to it! I struggle with eczema and this calms my skin down so well. My skin barrier has been much healthier and handles flare ups much better than it used to. My only wish is that they'd make a bigger size.
Calms my skin down better than anything!
I love using this toner on exfoliating nights! I keep it in a spray bottle and if my skin is ever irritated, even on non-exfoliating nights, I just spray it on my face and any irritation starts to disappear. I can't believe I ever went without.
Favorite toner
Most soothing toner I've ever tried.
Didn't realize how much my skin loved it
(Sorry this is gonna be long) So I used a whole bottle of this and I did like it but I didn't know if it was worth the price since most of my products are Korean products that are around $10 each so I wasn't going to repurchase. My skin did look a lot better over the course of the bottle (less redness, acne went down so much, skin was softer) but I had also just started using retinol so I contributed it mainly to that. When my bottle was empty I replaced this toner with another soothing watery toner as the new first step in my routine and the new one was fine but within a few days I noticed a difference where my skin was less glowy and less plump and less calm. It wasn't irritated exactly just less pretty. It's been about a week and I just came on here and created a subscription so I won't run out again! Just a tip- I made a subscription for every 3 months but for 2 bottles so I get 15% off AND free shipping :) also just a note on the company- I originally bought this toner when it said there was only 1 left but it turns out there actually weren't anymore left so it took about a week to ship out because they had to find one to send me which isn't even that long but they emailed me to apologize for the delay and also sent me a full-size cleanser for free! So they have great customer service as far as I can tell.
A must have
Bought this for a trip to the Philippines. I wanted something that will help maintain my skin barrier and keeping me hydrated through the humidity during my travels. Now its a must have in my routine and I can't wait to purchase another!
Love it
Makes me skin look and feel amazing. Seems to have transformed my slightly protruding dark undereyes to brighter smoother ones. Barely wear makeup now!
Soothing and repairing
I have excessively oily skin that I need to exfoliate often otherwise the pores will be clogged pretty quickly. This toner is a great buffer before those potentially irritating products. It's also very good for post-chemical peel calming. Please make a larger bottle!
非常非常好用
我是油敏痘皮,舒缓效果很好不刺痛镇定的感觉很强烈!无限回购款