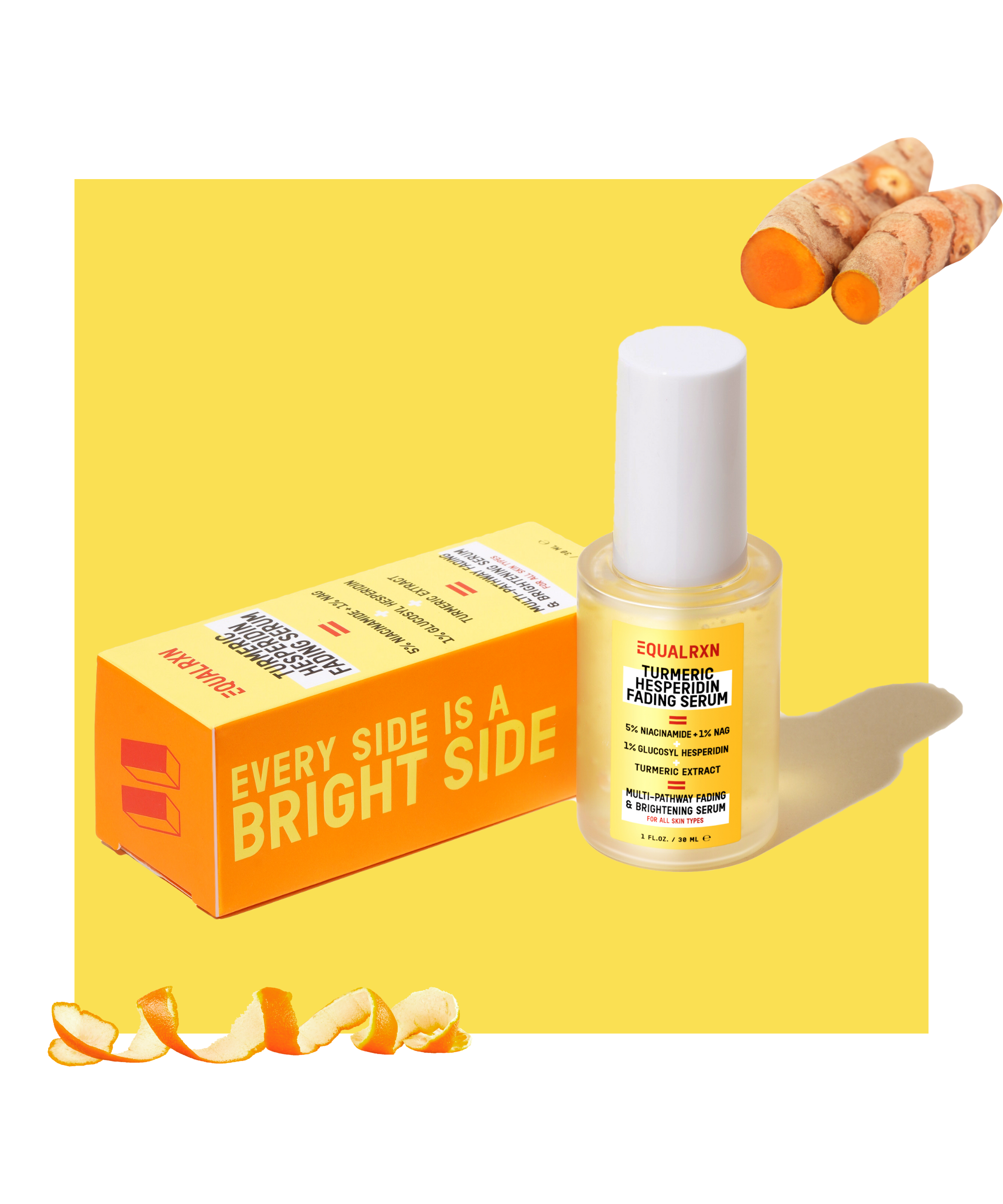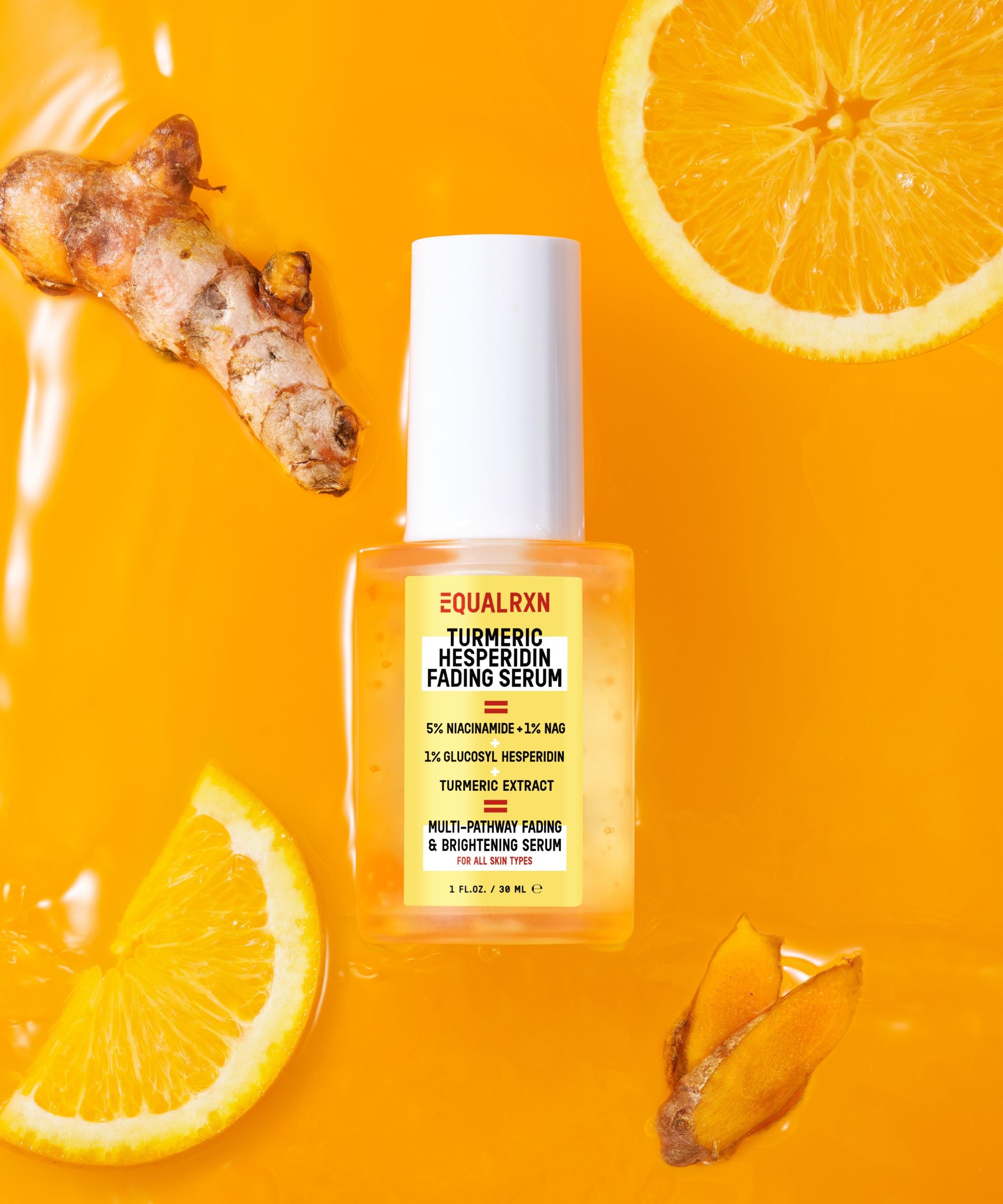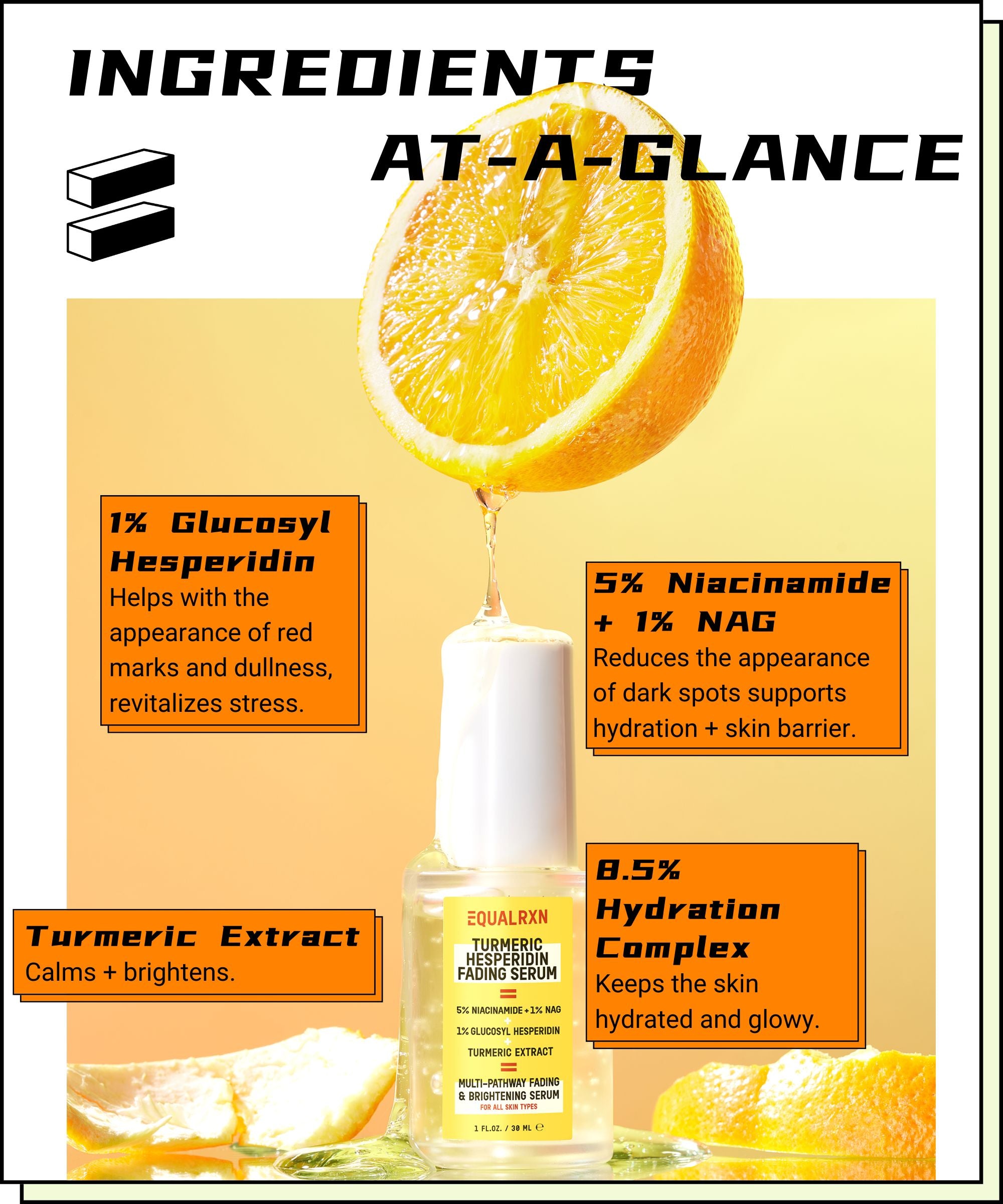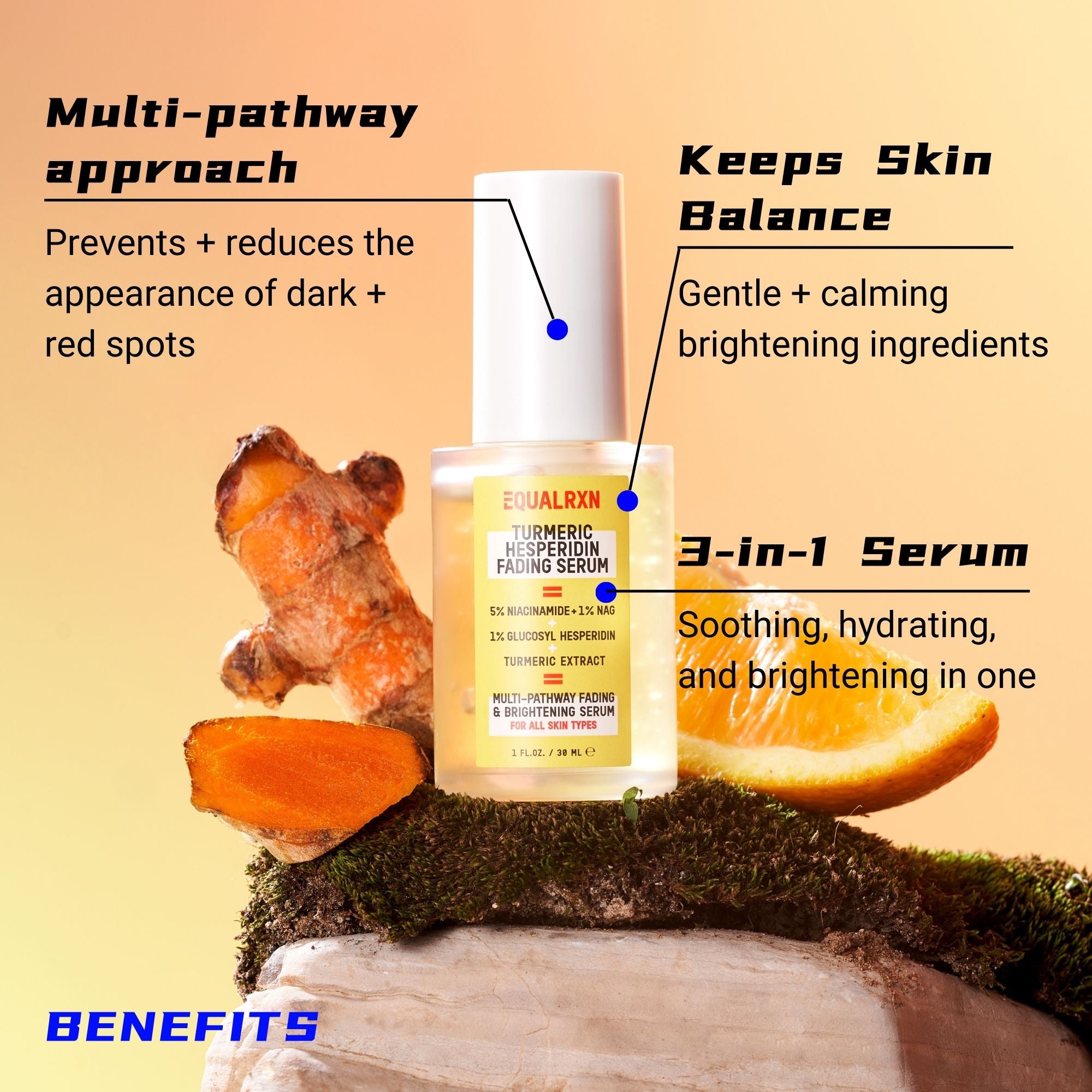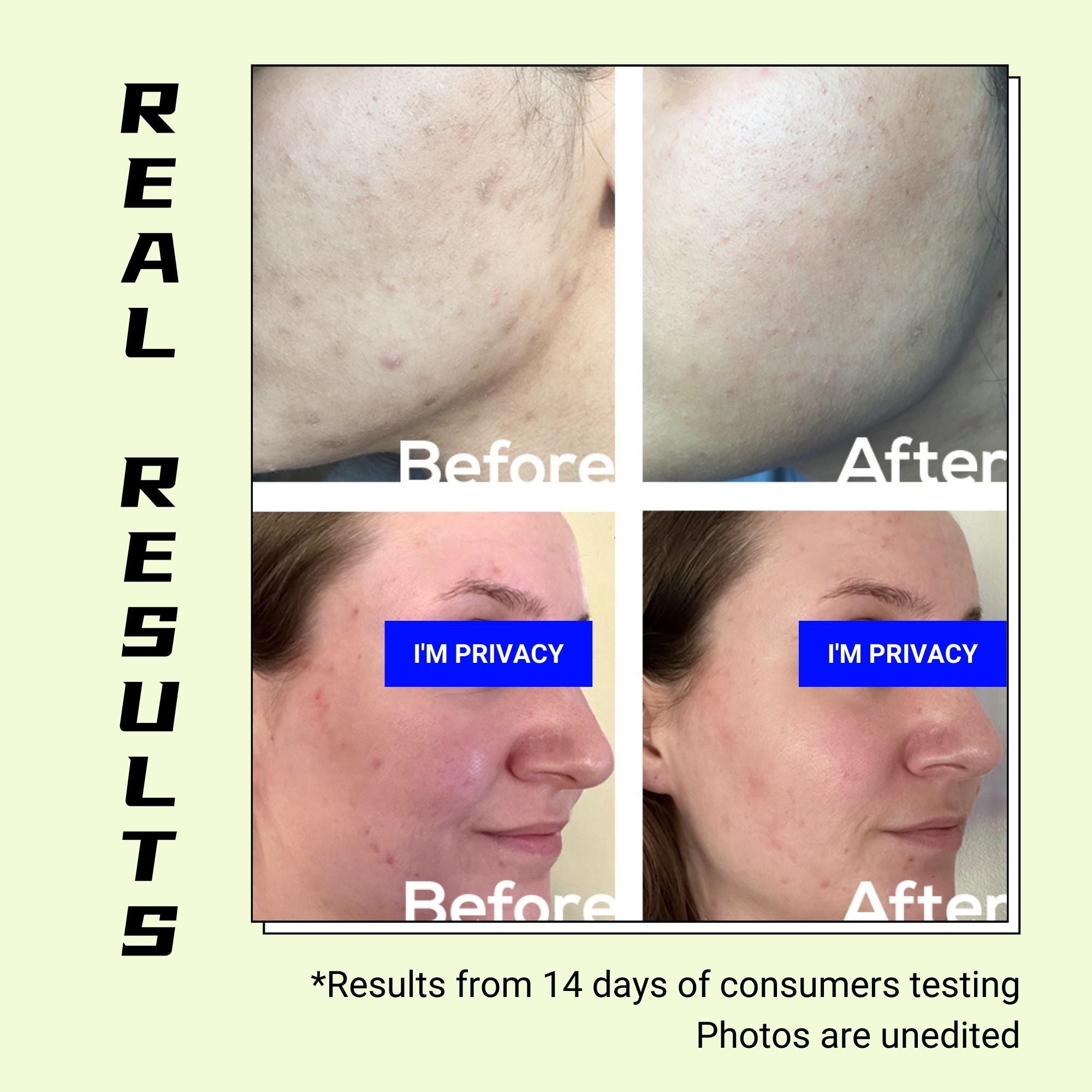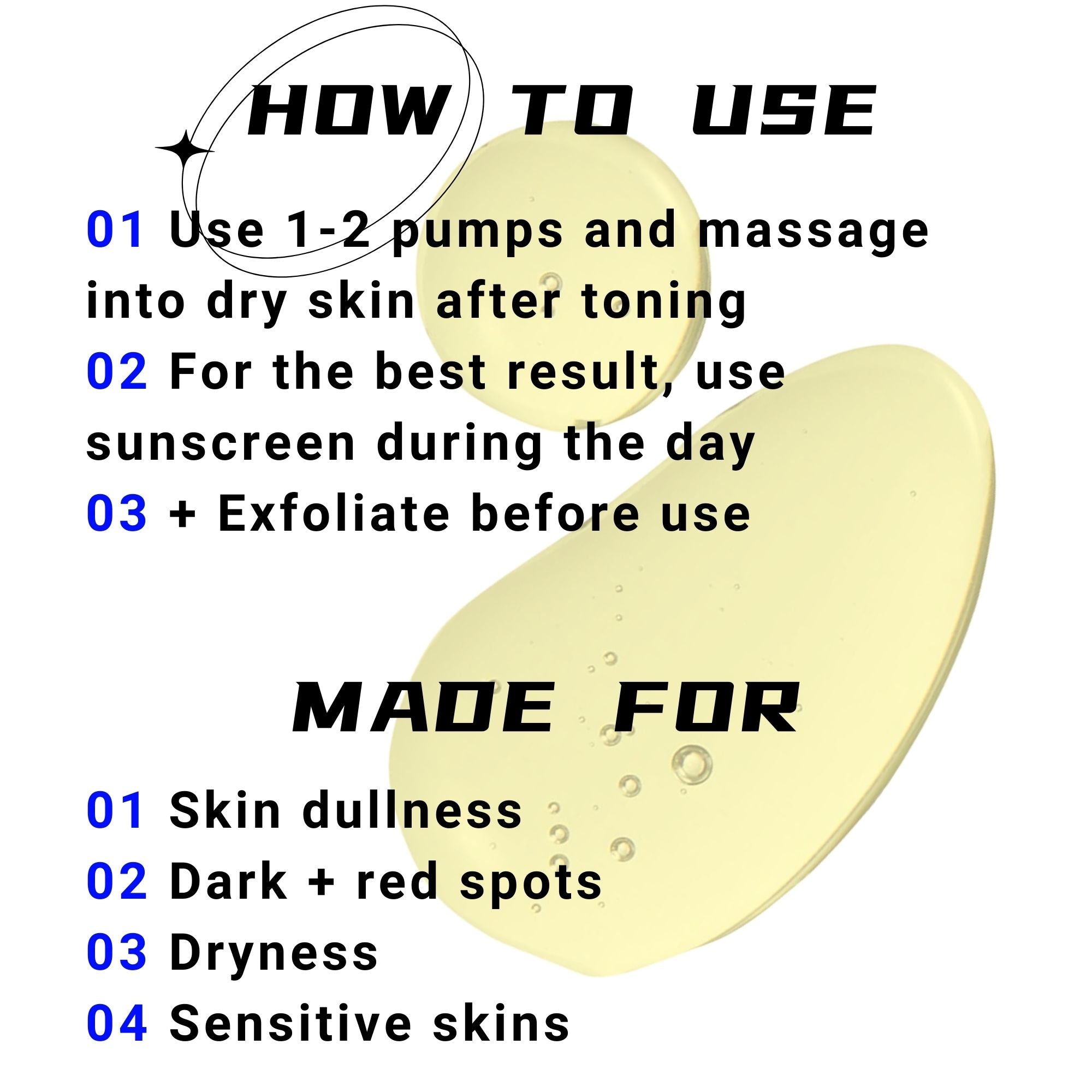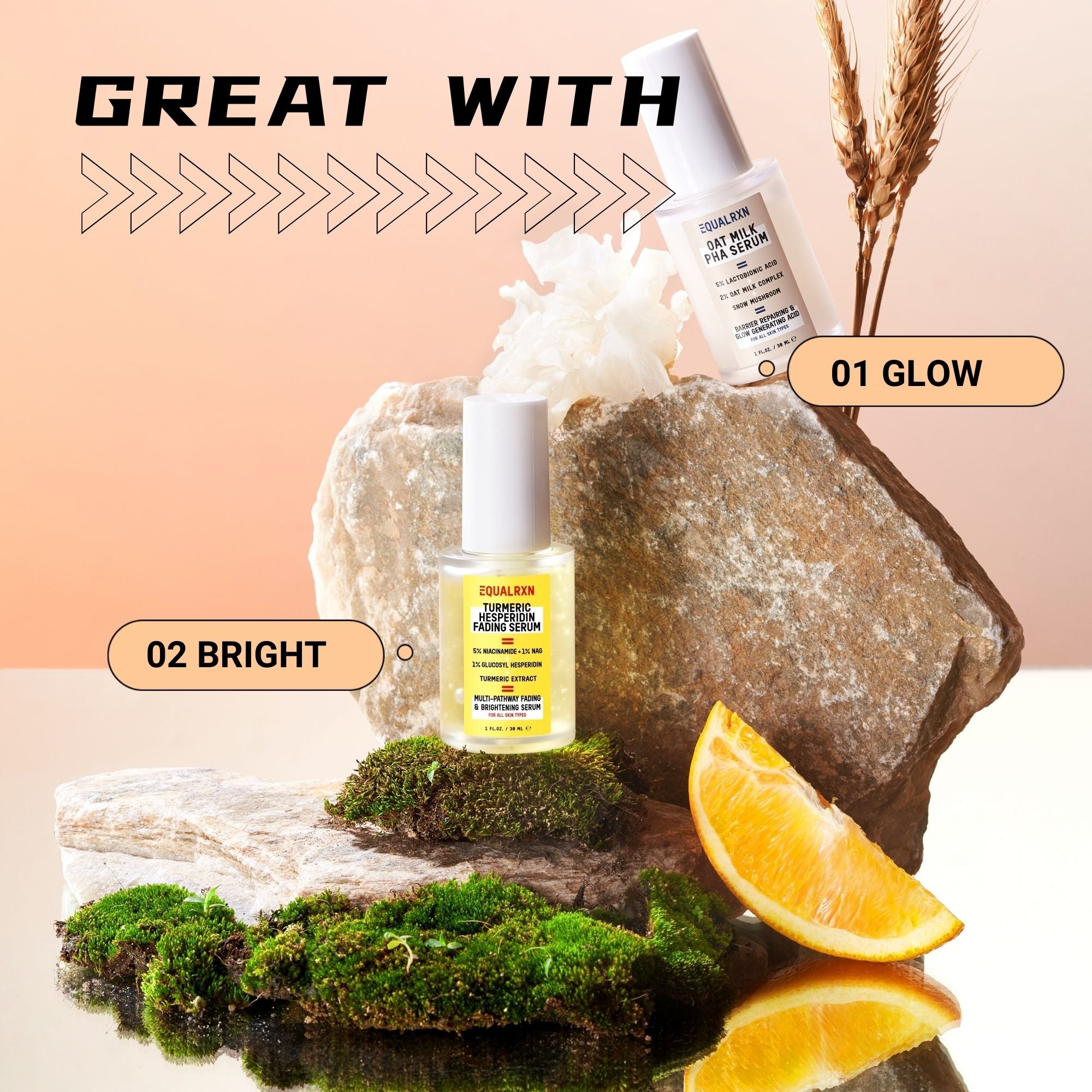 Turmeric Hesperidin Fading Serum
Description
Full Ingredients
How To Use
1 oz / 30 mL
An advanced formula packed with powerhouse ingredients, such as 1% GLUCOSYL HESPERIDIN, TURMERIC, and 5% NIACINAMIDE + 1% NAG, synergistically targets multiple pathways of discoloration. In addition, the ultra-lightweight jelly texture calms and hydrates the skin to give it a brighter, plumper, and more even look.
Traditional skin brightening products such as a vitamin C serum often only tackle a few mechanisms behind skin discoloration. While ascorbic acid is an excellent ingredient for inhibiting tyrosinase activity through copper chelation, it lacks the depth to address other concerns and mechanisms associated with discoloration.
Formulated by the multi-pathway approach, the Turmeric Hesperidin Fading Serum is a 3-in-1 serum that visually combats discoloration, dullness from dehydration, and the appearance of redness from sensitivity.
What we love about it
[ PREVENTS DARK SPOTS ] Soothing and brightening ingredients such as 5% niacinamide + 1% n-acetyl glucosamine work synergistically to prevent the severity of dark spots.
[ GOOD FOR RED MARKS ] Hesperidin, a strong antioxidant and soothing ingredient found in citrus peels, is known to help with broken and fragile capillaries. It could help with fresh red marks and the appearance of redness.
[ BRIGHTENS + SOOTHES + HYDRATES IN ONE ] Containing 8.5% humectant hydration ingredients, as well as gentle brightening and soothing ingredients, this serum is a multi-purpose serum.
[ LIGHTWEIGHT TEXTURE ] The golden jelly texture is super lightweight yet very hydrating, suitable for all skin types, especially those looking to lighten the appearance of their blemish marks.
[ GENTLE ON THE SKIN ] While many brightening serums contain a single highly concentrated ingredient such as vitamin C, we took a gentler approach to combine multiple sensitive skin-friendly brightening ingredients that target different pathways of how hyperpigmentation is formed.
[ FOR ALL SKIN TYPES ] especially for those who are sensitive. Turmeric Hesperidin Fading Serum is hydrating and layer-able.
Aqua/Water/Eau, Butylene Glycol, Glycerin, Niacinamide, 1,2-Hexanediol, Glucosyl Hesperidin, Acetyl Glucosamine, Arbutin, Trehalose, Arginine, Curcuma Longa (Turmeric) Root Extract, Acrylates/C10-30 Alkyl Acrylate Crosspolymer, Kojic Acid, Hydrolyzed Extensin, Glycine Max (Soybean) Seed Extract, Resveratrol, Glycyrrhiza Uralensis (Licorice) Root Extract, Glutathione, Coptis Japonica Root Extract, Polyglyceryl-10 Laurate, Ammonium Acryloyldimethyltaurate/VP Copolymer, Hordeum Vulgare Extract, Oryza Sativa (Rice) Extract, Sesamum Indicum (Sesame) Seed Extract, Rubus Fruticosus (Blackberry) Fruit Extract, Ribes Nigrum (Black Currant) Fruit Extract, Cynanchum Atratum Extract, Betaine, Ethylhexylglycerin, Xanthan Gum, Disodium EDTA, Caprylyl Glycol.
- Apply a few pumps to the skin, and gently massage into the skin after cleansing and toning in the morning and/or at night. Follow up with a moisturizer if needed.

- For the best result, please use sunscreen during the day! For external use only. Avoid contact with eyes. Use as directed.
Turmeric Hesperidin Fading Serum
03 Treat
Improve the skin by addressing specific concerns. EqualRXN's serums are all compatible and synergistic.
Lovely
I really like this serum. I haven't taken before and after photos so I can't really compare but it doesn't irritate my sensitive skin and I haven't developed more hyperpigmention while using it, even in the summer. Will update when I've used it a little longer.
Amazing serum!!
I've been using the Turmeric Fading Serum each morning for about 8 weeks and I've really been impressed with it. I struggle with dark spots and this has helped my dark spots look noticeably lighter. The formula of this is so nice to use and the pump packaging is great. Plus, this doesn't have a strong smell. I really couldn't be happier with this serum!
Moisturizing serum with excellent hydrating properties
I have already used up my second bottle of this turmeric serum, and it has been amazing for keeping my face hydrated and radiant during the dry and cold winter season. Its gel-like texture makes it easy to apply, and it doesn't leave any residue or pill up. The natural and fragrance-free formula is perfect for my sensitive skin, and I plan to continue using it."
Consistency and patience
The Turmeric fading serum was very easy to incorporate into my winter routine and I experienced no irritation nor increased sensitivity (my skin is more susceptible to environmental stressors during winter).
As for results, my skin is brighter and less red. I've also seen improvements in smaller PIE. I struggle with hyperpigmentation PIH and I've seen a reduction of how they appear on my skin. My routine has been focused on targeting this specific skin concern so I'm also using other products but the combination of the oat serum + turmeric has been great for my sensitive skin! Overall I look forward to seeing more results from this combo.
Consistency is key!
I have been using it every morning for the past few weeks and I am starting to see a difference. My complexion is clearer, my skin is brighter and most importantly, my acne scars are fading away 🥲 i am so happy with the product!!
Gentle and effective
I have been using this serum about a few weeks now. It's gentle and I love the texture. Not sticky or watery. I plan to re purchase it for sure!
👍🏻👍🏻
I been using this the past month or so. I have really bad sun spots and dark spots so it's a long road for me. I use this every morning with my vitamin C and it leave my skin so soft with a glow. Overall I'm praying this is the one product that's can help me. I still have a long journey to go 🥺
Amazing product to have for skin care routine!
This serum is super nice and made my face so clear! I've been using this twice a day, in the morning and at night and it really helps with calming my breakouts down. It even helps to reduce the flakiness I get from tretinoin and helps my makeup to stay more evenly. It is a little pricey for the 1 oz small bottle, but you only need about 1-2 pumps. Onto my second bottle.